A Vibrant Chicago Food Scene Invites Visitors to Explore
Chicago may be windy and slate gray eight months out of the year, but the city's reputation for fine dining and Midwestern comfort food more than makes up for its lakeside chill. In 2015, thanks to a powerful campaign from Mayor Rahm Emanuel, Chicago nabbed a coveted spot as host for the prestigious James Beard Awards Gala.
But it's the robust Chicago food scene that made the awards committee want to return for the next two years, says Susan Ungaro, who was the president of the James Beard Foundation for eleven years. "Chicago boasts over 40 Beard Award-winning chefs and restaurants, second only to New York," Ungaro told the Washington Post.
That list includes Grant Achatz, the mastermind behind Alinea, and Rick Bayless, most well known for cultivating authentic Mexican cuisine at spots like Frontera Grill and Xoco. But there's a new crop of chefs, too, like Beverly Kim, the Top Chef breakout who nabbed a Michelin star for her innovative Korean-American dishes at Parachute, and Noah Sandoval, whose "Gonzo tasting menu" at Oriole earned him a Food & Wine nomination for Best New Chef in 2017.
As the city's fine-dining options bloom, Chicago remains true to its roots. The first wave of German, Polish, and Irish immigrants to Chicago in the nineteenth century helped the city earn its other nickname, the meatpacking capital of the United States. And that means staples like deep-dish pizza, hot dogs, sausage, and Italian beef sandwiches are still a major part of the Chicago food scene.
The arrival of newer immigrant populations from Mexico, Central America, and the Philippines has resulted in some of the city's most exciting new restaurants, too. Far north of Wrigley Field there's Isla Pilipina, serving up Filipino fare like fried squid with vinegar and garlic and plenty of pork barbecue. Then there's Yassa, down in Bronzeville, with traditional Senegalese dishes of tender, marinated chicken and bowls of spicy thiou curry.
Add to this bounty a number of inspired craft-cocktail and homemade-dessert spots, like Pretty Kakes Chicago, and you have a landscape that rivals any other food city in the country. If the mythos of the American melting pot lives on anywhere, it lives in the Chicago food scene—so dig in.
How to Eat Your Way Through Chicago
No matter which neighborhood you're in, eating your way through Chicago's food scene yields plenty of surprises. Beyond the outline of the Loop, where Italian eateries and steakhouses abound, seek out Nepalese dishes in Wicker Park or piri-piri chicken in Logan Square. Pretty much wherever you wind up, you'll have no trouble locating fine dining—although you may have to make reservations far in advance to nab a spot at Blackbird, one of the first farm-to-table restaurants, in the West Loop, or Achatz's glitzy cocktail spot The Aviary. The family joints you'd expect in a town like Chicago, like Uncle John's BBQand Gene & Georgetti, a favorite steakhouse, are sprinkled throughout the city, too. So get out there and explore—one neighborhood at a time.
The Loop
With its rash of hotels for business travelers, and tourist destinations like Millennium Park only steps away, the Loop caters to conference attendees and art aficionados alike. Here, you'll find plenty of upscale Italian-inspired eateries, along with traditional German pub food. Stake out a spot at the Chicago Cut Steakhouse to sample the wares from the restaurant's dry-aging room, or head to Miller's Pub, which has been welcoming commuters off the L since the 1930s, for craft brews and barbecue ribs. Craving variety? Sample the diverse menus at Revival Food Hall, where you can treat yourself to everything from barbecue to baked goods.
If you don't want to drop a lot of cash, fast-casual options like Au Bon Pain, Which Wich, or Sopraffina Marketcaffe, a Loop staple for 25 years, offer quality dishes without all the fanfare. "We like to think we stand out because of the longevity of our company, the warm and friendly hospitality of our staff, and the quality and variety of our food," says Taryn Kelly, Sopraffina's vice president of marketing. Gourmet sandwich baskets and dessert samplers are some of the family owned restaurant's customer favorites.
River North
Travel north along the lake, close to the Museum of Contemporary Art and the Navy Pier, and you'll find some of Chicago's most luxurious dining spots. Spring for a chic update on Italian at Osteria Via Stato, or sip on a craft cocktail at Broken Shaker, located in the Freehand Hotel. But if you'd rather explore a different side of the Chicago food scene, try a Mexican tasting menu at Topolobampo. And be sure to make room for ramen at Slurping Turtle before heading out to shop or snap photos. And, if you're headed further north, check out Glaze Teriyaki Grill for Japanese-style grilled meats.
Lincoln Park
Between River North and Bucktown, you'll find Lincoln Park, home to some of Chicago's most prestigious award-winning restaurants. Boka, a modern American restaurant with an innovative seasonal menu, has nabbed countless (okay, seven) Michelin stars. This is also, coincidentally, the neighborhood where you'll find Grant Achatz's mind boggling Alinea. But there's plenty of other fare to explore here, too, from deep-dish pizza (Pequod's Pizza) to exquisite oysters (Oyster Bah) to Sichuan (Chengdu Impression). At Cafe Ba-Ba-Reeba, tapas is the name of the game, says Zoe Krey, marketing manager of the restaurant group Lettuce Entertain You Enterprises. There, chef Gabino Sotelino serves up customer favorites like bacon-wrapped dates with apple vinaigrette and spicy potatoes with tomato aioli.
Wicker Park / Bucktown
Don't let buzzkill comparisons like "Wicker Park is the Brooklyn of Chicago" scare you away from these incredible neighborhoods. Yes, Wicker Park and Bucktown have gentrified at a rapid pace, and plenty of the grungy appeal of these neighborhoods has disappeared. Still, Wicker Park and Bucktown have some of the best old-school Polish dishes (Club Lucky) or Mexican diner fare (Dove's Luncheonette) the city has to offer.
In many ways, these two neighborhoods capture the Chicago food scene in miniature. You'll find everything from Italian beef sandwiches to Korean barbecue, carnitas to biryani. And (fine!) if you want a taste of hipster culture, you can't do better than Emporium, a barcade with a boggling amount of beer on tap. Ready for dessert? Don't miss Mindy's HotChocolate, an upscale American restaurant with to-die-for desserts straight from the brain of award-winning pastry chef Mindy Segal.
Ukrainian Village / West Town
Once home to Chicago's large Ukrainian immigrant population, the Ukrainian Village is nestled within Chicago's West Town (you can still find nods to its heritage at eateries like Shokolad Pastry & Cafe). Its proximity to downtown Chicago has made West Town a destination for farm-to-table purveyors and craft-beer fanatics alike. Here you'll find plenty of trendy cafes, like Bite Cafe and Dark Matter Coffee, or upscale Americana like Small Bar and Homestead on the Roof. Handmade pizzas, like those from Roots Pizza, are having a moment in the Chicago food scene, too.
West Loop / South Loop
Fine dining makes its home in the West Loop, where just about every buzz-worthy establishment has set up house. Blocks away from the old-world feel of the Fulton-Randolph Market district, you'll find one of Eater's best restaurants of 2017, Elske, which serves a hybrid of Danish and Scandinavian fare, and Monteverde, a longtime favorite Italian restaurant helmed by award-winning chef Sarah Grueneberg. But if you can't wait months to snag a reservation, try newer spots, like Bonci, which serves pies with (wait for it!) thin, crispy crust. Or head to the South Loop for true community anchors, like Manny's Cafeteria and Delicatessen, an old-school Jewish deli.
Little Italy
With the University of Illinois at Chicago just nearby, Chicago's oldest Italian restaurants have found a place to thrive. From The Rosebud's traditional take on Chicago Italian to Francesca's on Taylor, which showcases Roman and Tuscan dishes, you can't go wrong sampling housemade pasta, pizza, and insalate. This neighborhood is also where you'll find one of the best Italian beef sandwiches in Chicago. Order a monster sandwich at Al's Beef if you dare—just be sure to grab a handful of napkins first.
Chinatown / Near South Side
Venture to Chinatown for Chicago's best dim sum, hot pot, and ramen. Had your fill of soup dumplings at Qing Xiang Yuan Dumplings? Why not explore Korean barbecue at Daebak, or line up for bubble tea at Joy Yee? And if you're looking for something on the go, keep your eyes peeled for the Yum Dum Truck, which makes killer kimchi-flavored rice balls.
A few blocks away, the Near South Side neighborhood plays host to some of the best Southern-style barbecue joints in the Chicago food scene, including Honky Tonk BBQ. You'll also find Acadia, chef Ryan McCaskey's homage to "contemporary and classic" Americana, over on South Wabash. Further out, in East Chicago, Ace Catering & Banquets will cover all your needs for a major event.
Logan Square / Avondale
Only about six years old, the Macanese joint Fat Rice has captured the imagination of eaters everywhere thanks to its three-alarm-fire piri-piri chicken. Some of Chicago's most exciting up-and-comers have restaurants here, too, including Beverly Kim at Parachute, where you can try her unique takes on Korean-American, like bibimbap with smoked eel or a squid-ink conchiglie.
Pilsen
Home to Chicago's large Latino population, Pilsen is where you'll find some of the best taquerias in the city. Check out Taqueria Los Comales or 5 Rabanitos for authentic tacos, tamales, and posole. You'll also find an excellent Vietnamese joint here, HaiSous, with menu items like fried chicken wings and a lemongrass-chili infused pork chop. In the mood for bar food? There's no shortage of dives with good grub, including Simone's and Pleasant House Pub, which features English-style hand pies straight out of The Great British Bake Off.
Alternatively, you could have the best of Chicago's food scene delivered to your doorstep. Here are ezCater's ten best Chicago caterers for delivery that hits every one of the most flavorful notes in the Chicago food scene.
Dish by Dish: Exploring the Chicago Food Scene
You can't go wrong sampling the Chicago food scene neighborhood by neighborhood. But the city also has popular dishes you won't find anywhere else—or cooked with the same level of panache. Here are eight Chicago favorites you can't miss when you're in town:
1. Pizza
Gone are the days when New Yorkers and Chicagoans might brawl over which city is home to the best pizza. While Chicago is most well known for deep dish, the scene here is changing. Now you can find pizza of all kinds, from traditional deep dish at Pequod's, to light and crispy crusts at Bonci. Or, if you're on the go, stop in to one of Slice Factory' s seven stellar pizza joints.
2. Tacos
With the largest population of Latinos outside of Los Angeles, Chicago's food scene boasts some of the best tacos, arepas, and tamales in the country. If you're excited about nabbing a table at a Rick Bayless restaurant, try his newest spot, Xoco, for accessibility. But you can't go wrong with exploring the taquerias in Pilsen, or popping into Bullhead Cantina if you're near Humboldt Park. If you need tacos for a crowd, Big Mama's Home Kitchen has got you covered.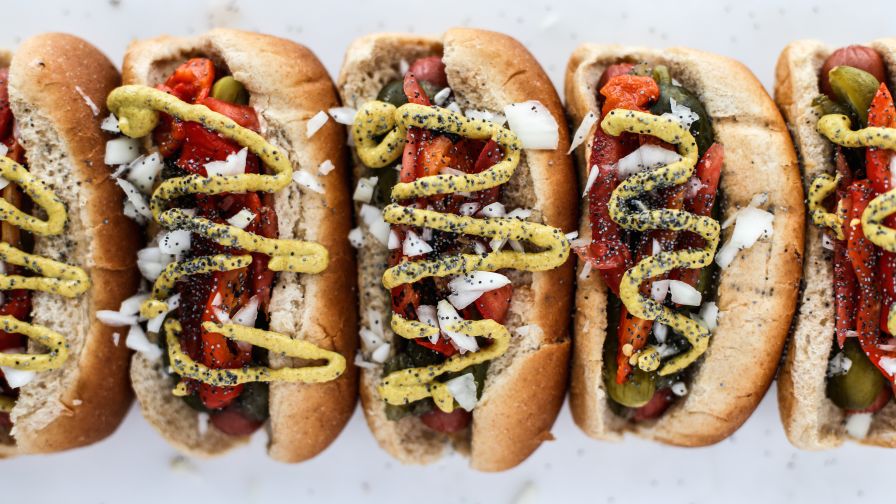 3. Hot dogs
In Chicago, this summer barbecue favorite isn't just for the ballpark or the backyard. It's a way of life. Try a char dog at Fatso's Last Stand, where the sign prominently reminds you that mustard is king.
4. Fried chicken
Forget Southern hospitality. The Chicago food scene is all over fried chicken, from the brined and battered homestyle cooking of Honey Butter Fried Chicken to Crisp, a Korean fried chicken paradise.
5. Cheeseburgers
If it's a burger you crave, head to Au Cheval. "Your quest for the world's best cheeseburger ends at Au Cheval," raves Condé Nast Traveler. With the perfect ratio of prime beef, cheddar cheese, and dijonnaise, this burger has yet to be beat.
6. Seafood
Thanks to Chicago's lakeside perch, its seafood is incredible. From oysters and burrata to mussels and lobster rolls, don't shy away from this section of the menu. Go upscale at Fish Bar in Lakeview for oysters and poke, or get down and dirty with a good old fashioned Cajun boil at lowcountry.
7. Beef
Chicago's steakhouses are still on the rise. And while the city has always been known for its fine cuts of beef, fresh takes on Americana have breathed new life into its fillets. You can go classic (Bavette's), historical (Chicago Chop House), or even Brazilian (Fogo de Chão).
8. Barbecue
Midwesterners love their barbecue just as much as Southerners, which is why you'll find incredible joints dotted throughout the city. For rib tips, head to Lem's Bar-B-Q, and for new takes on old favorites, try Green Street Smoked Meats in the Loop. And don't forget about Korean barbecue, like bellyQ, chef Bill Kim's flagship restaurant, or Dancen, in Lincoln Square for a delicious dive.
Chicago's Claims to Fame: Dishes Unique to the Windy City
Forget the "Bean" in Millennium Park and the Sears Tower. The Chicago food scene has plenty of worthwhile landmarks all on its own. Here are six must-know dishes:
Deep-dish pizza: This large-and-in-charge pizza is more of an experience than a pizza slice. Baked in a deep pan until the crust is thick and doughy, deep dish has healthy helpings of sauce, veggies, and plenty of mozzarella. Altogether, the homey ingredients make this Chicago staple more than a mouthful.
Chicago-style hot dogs: When in Chicago, there's really only one way to eat a hot dog—and don't even think about adding ketchup. Most Chicago dogs come with mustard, relish, onion, tomato, celery salt, and a dill pickle spear. It packs a flavorful punch with plenty of texture.
Italian beef sandwiches: Whether an Italian joint slices its tender roast beef thick or thin, these sandwiches come piled high with meat and are dipped in delicious au jus. Just be prepared to make a mess (it's encouraged).
Jibarito: Created by Puerto Rican geniuses, the jibarito sandwich ditches bread for fried plantains. The crunchy sweetness of the plantain sets off savory, marinated meat, whether chicken or steak.
Malort: Rightfully, Chicago should make you think of beer. Good beer. But Malort, which was created here, is actually a rudely bitter Swedish liqueur. (It even has its own expression, "Malort face," which is worth a Google.)
Rib tips: Midwesterners are nuts for this piece of meat, located at the very end of the spare-rib cut. They're not unique to Chicago—you can find them all over the Midwest and even in the South—but they're much beloved here.
Ready to explore what Chicago's best restaurants have to offer?
Want to browse more articles like this one?