Liked It
On-Time
10
caterers available
Famous Sweet Tea
471 Reviews –
Sandwiches, spuds, salads, soups and sweets - fresh taste and high quality service. And McAlister's Famous Sweet Tea™ stands out from the usual, too.
Home-Style Catering
2X Points
We pride ourselves on serving you food that we would serve our families. Order our home-style dishes, like our croissant sandwiches, meat lasagna, or Parmesan chicken at your next meeting.
Every Bite Lotz Better
204 Reviews –
Schlotzsky's. Better. Catering that features our great sandwiches, toasted wraps - and pizzas, too. You know you love our huge flavors.
Authentic Mexican Grill
405 Reviews –
Authentic Mexican favorites are always crowd pleasers. Sizzling, mesquite-grilled fajitas, hand-rolled enchiladas, fresh guacamole, zesty salsa...
Fresh American Dining
3,021 Reviews –
Simple, fresh, American dining. Ruby Tuesday is driven by uncompromising freshness and quality, and gracious hospitality.
Smokin' In Memphis
2X Points
Our BBQ is a force to be reckoned with. We pride ourselves on its quality and flavor. Try one of our well-put-together party packs at your next meeting.
Great Mediterranean Food
2X Points
Perfectly grilled meats, mouthwatering salads, and all the health benefits of Mediterranean-fresh fare.
Be Good to Yourself
22 Reviews –
Our products are not just good. They're good for you. It's been more than 30 years since Steve, our founder, invented the nutritious and delicious drink now known as a Smoothie. Since then, we have...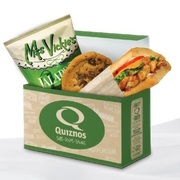 Mmmmm ... Toasty
45 Reviews –
Uncompromising quality for busy people looking for a tasty, fresher alternative to traditional fast food. Quiznos offers better-tasting food through creative, chef-inspired recipes using premium qu...
Cheesesteaks and More!
28 Reviews –
The creation of a truly great sub is no small feat. At Lenny's, we pride ourselves on serving up authentic Philly cheesesteaks and the deli fresh experience.
Order Together
Invite colleagues and clients to edit this order. It's easy!
Budget: None
Guest Checkout: No

About ezCater
ezCater is the leading marketplace for ordering catering online. You can order from over 36,871 caterers nationwide, and earn rewards on every order. All backed by fantastic customer service. Need help? Just call us, and talk to a real person. No Press 1 nonsense.