Liked It
On-Time
3
caterers available
Spice! Pickles! Sammies!
31 Reviews –
Gourmet sandwiches, wraps, and salads made with quality meats, fresh-baked Italian breads, and of course, our homemade spicy pickles. Get your Spicy Pickle fix today!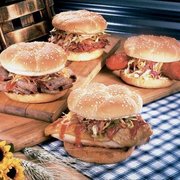 We're Smokin'!
Our delicious, award-winning food is prepared under the guidance of four-time World BBQ Champion, Mike Mills. Our great-tasting catering packages include something for everyone!
Fresh & Healthy Food
26 Reviews –
We believe in eating fresh, healthy & wholesome food as a part of a well-balanced life. You can count on fresh, high-quality ingredients and daily made-from-scratch menu items. Perfect for the heal...