Liked It
On-Time
9
caterers available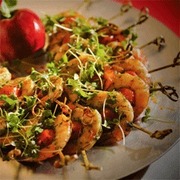 Every Taste and Occasion
4 Reviews –
Something for every taste and occasion. We have dozens of options to make choosing the meal for your event quick and easy.
Every Bite Lotz Better
222 Reviews –
Schlotzsky's. Better. Catering that features our great sandwiches, toasted wraps - and pizzas, too. You know you love our huge flavors.
Hot Fresh Every Day
287 Reviews –
Einstein Bros Bagels wrote the book on bagels! But we offer more as well: darn good coffees, breakfast and deli sandwiches, and baked sweets.
Authentic Mexican Grill
405 Reviews –
Authentic Mexican favorites are always crowd pleasers. Sizzling, mesquite-grilled fajitas, hand-rolled enchiladas, fresh guacamole, zesty salsa...
Founded by Firemen
2X Points
301 Reviews –
Firehouse Subs was founded in Jacksonville, Fla., by former firefighting brothers Chris & Robin Sorensen, and serves subs with large portions of premium meats, cheeses, and fresh produce. As they s...
Fresh & Healthy Food
47 Reviews –
We believe in eating fresh, healthy & wholesome food as a part of a well-balanced life. You can count on fresh, high-quality ingredients and daily made-from-scratch menu items. Perfect for the heal...
Fresh American Dining
3,011 Reviews –
Simple, fresh, American dining. Ruby Tuesday is driven by uncompromising freshness and quality, and gracious hospitality.
Global Gourmet Food
We are a one-stop shop and a woman-owned business. We provide full service and a variety of gourmet food from around the globe. We cook in your language!
Serving Our Friends Daily
Serving dozens of breakfast options since 1987. Our omelettes are a crowd favorite.
Order Together
Invite colleagues and clients to edit this order. It's easy!
Budget: None
Guest Checkout: No

About ezCater
ezCater is the leading marketplace for ordering catering online. You can order from over 36,903 caterers nationwide, and earn rewards on every order. All backed by fantastic customer service. Need help? Just call us, and talk to a real person. No Press 1 nonsense.