Relish by ezCater: Adaptable food for work before, during, and after the pandemic
When we first launched the experiment that would become Relish, getting convenient access to great meals at work was a perk. Employees who used the service loved the variety of local restaurants that would now deliver individual meals right to their offices. Companies loved how it helped them attract and retain talent. If you didn't want to deal with crowded restaurants and long lines downtown, or were in a suburban location without many restaurants nearby, ordering a meal to your office on Relish offered a bright spot in otherwise dull or hectic days at work.
Then came March 2020. How we all work changed, and how we think about eating at work changed, too. As Diane Swint, ezCater's Head of Marketplace said earlier this year: "You can't have 40 people in a factory trying to get out the tiny entrance and drive off to Chipotle to wait in line for 30 minutes. That is a very unsafe thing to do. In a high rise, you can't have folks all try to pile into an elevator."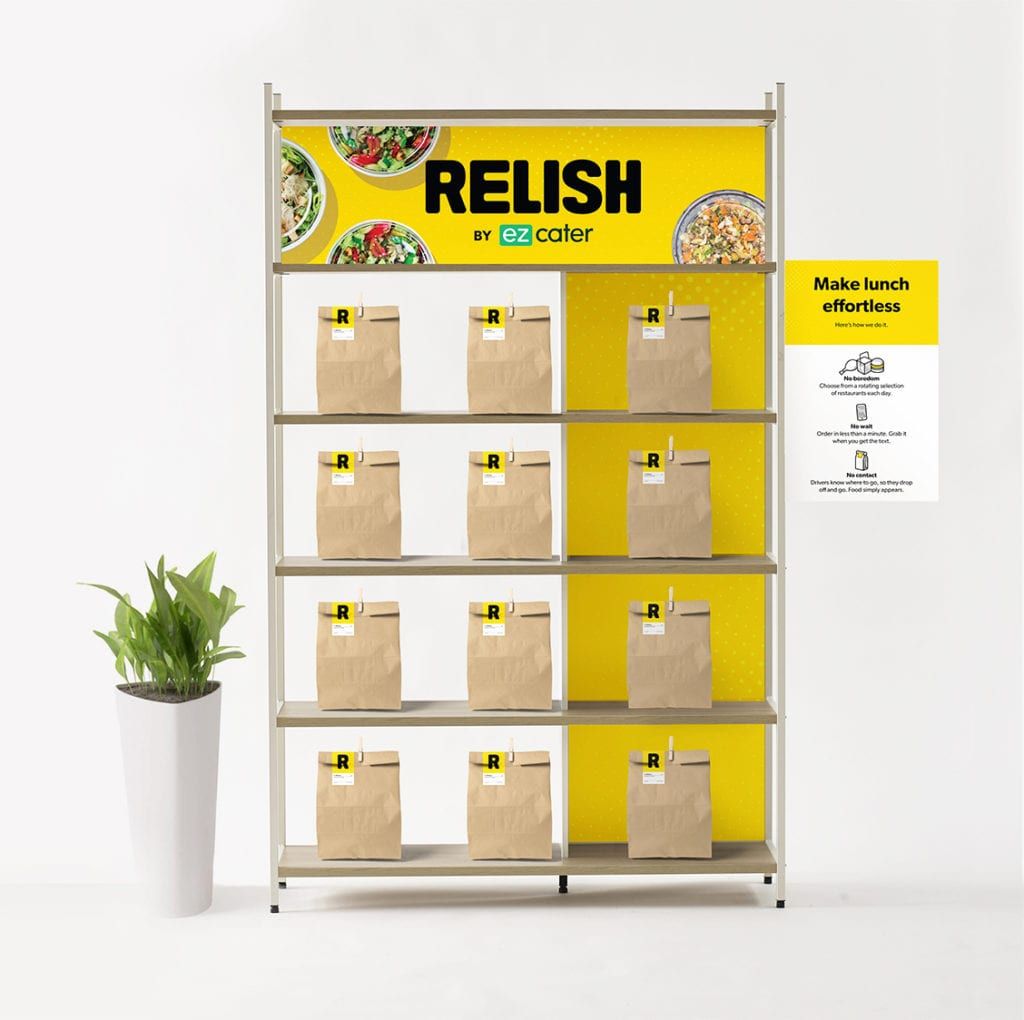 In the early days of the pandemic, most of the Relish customers in our initial test group in Boston informed us that they'd be working from home for the foreseeable future. We took the opportunity to pause and consider a couple things: First—how can we help? And then: how does Relish fit into the new world of work?
Within days, we repurposed Relish's backend software to power our Feed the Front Line campaign, creating a platform for sending meals to medical workers in over 145 hospitals across the US. Over just a few weeks, the ezCater community contributed more than 35,000 meals via Feed the Front Line, sending over $350,000 to local restaurants and catering companies when they urgently needed a lifeline. In the process, we and our partners learned a ton about how to safely get food to essential workers.
As we considered what was next for Relish, we talked to our customers. What did they need? Many folks who can productively work from home have done so throughout the pandemic. But many organizations whose employees need to be onsite to do their jobs don't have that luxury. They were worried about maintaining pandemic safety practices like social distancing at their workplaces, and showing appreciation for their staff who were working in person.
For companies whose employees need to be in person to successfully do their jobs, Relish helps limit exposure. It reduces touch points in the office and increases ordering efficiency. That gives peace of mind to companies and their employees. As Joy Brown, Office Lead Administrator at Voyager Therapeutics says: "I don't see people gathering in one space anytime soon. Relish is the best way to feed people, COVID or not. It takes all the responsibility off of us and it makes people feel really taken care of. They love the food."
Over the past several months, Relish has expanded nationally and is serving companies in diverse industries like retail, hardware manufacturing, financial services, and pharmaceuticals. With the remarkable news of a vaccine, we're talking with many companies whose employees have been working remotely to understand what a return to office life might look like later in the year.
Old models for providing food at work like cafeterias or vending machines have been disrupted by the pandemic, and may shift permanently in the wake of it. Relish brings a flexible new approach to food at work, without guesswork or food waste. It's adaptable, just like 2020 has taught us all to be.
Learn more about Relish and how it can solve food at work for your office.
Want to browse more articles like this one?