Catering to the Post-COVID Hybrid Office
As vaccination rates climb, we can see the light at the end of the pandemic tunnel. Ramping up for a full return to "normal," many employees are already starting to return to the office. But we're still a long way off from the way things used to be. The truth is, things may never go back to the way they were. So, we'd better be ready to adapt. Again.
Many people say that the future is hybrid. Over the last year-and-then-some, employees and employers have realized that it's possible to accomplish just as much work (and sometimes more) when the team is not in the office five days a week. Many companies are already planning to switch to a more flexible, hybrid working model for the foreseeable future. A recent survey of major New York City employers found that 66% of the organizations plan to implement a hybrid model with some days in the office and some days at home.
The pandemic changed the way we think about food at work.
The upcoming changes in public health protocols and operational shifts within organizations will affect every aspect of running a business, including lunch. COVID-19 changed everything about eating at the office, but caterers and office teams stepped up to face the challenge. From individually packaged meals and contactless delivery to staggered lunch hours and socially distanced break rooms, everyone has worked together to ensure employee safety without compromising the benefits of in-office meals. 
Settling into a long-term hybrid model—with more complicated employee rotation schedules and varying numbers of people on site each day—adds a new layer of complexity to ordering lunch. But that doesn't mean employers shouldn't provide lunch. In our recent survey of returning office workers, 65% said that they miss having lunch with coworkers, and 85% of business leaders say that lunchtime is when team members have the greatest opportunity to bond. Lunch at work provides more than just sustenance.
The pandemic has made food at work more than a perk. Over the last year, it has become a critical tool for keeping employees safe and productive. As we transition back to on-site work, it's also an effective way to entice people back to the office and show appreciation for their presence. In fact, 70% of returning employees we surveyed say they're more likely to return to the office if their company provides free or subsidized lunches, noting that it would make the transition back to work easier.
There's no question that the importance of in-office lunches has increased dramatically for both employers and employees.
The hybrid model changes the office lunch routine.
The hybrid office makes it challenging to keep track of everything—overall onsite headcount, individual employee preferences and needs, staggered lunch hours, and loads of other variables.
This dilemma is why we launched Relish by ezCater. Relish makes recurring employee meals easy, with flexible plans that let companies set stipends by day, week, or employee. Local restaurants deliver individually packaged meals right to your building via contactless delivery. Employees place their own orders on the day they're in the office—choosing exactly what they want from a rotating list of local favorite restaurants—while admins maintain full visibility and management through a consolidated dashboard.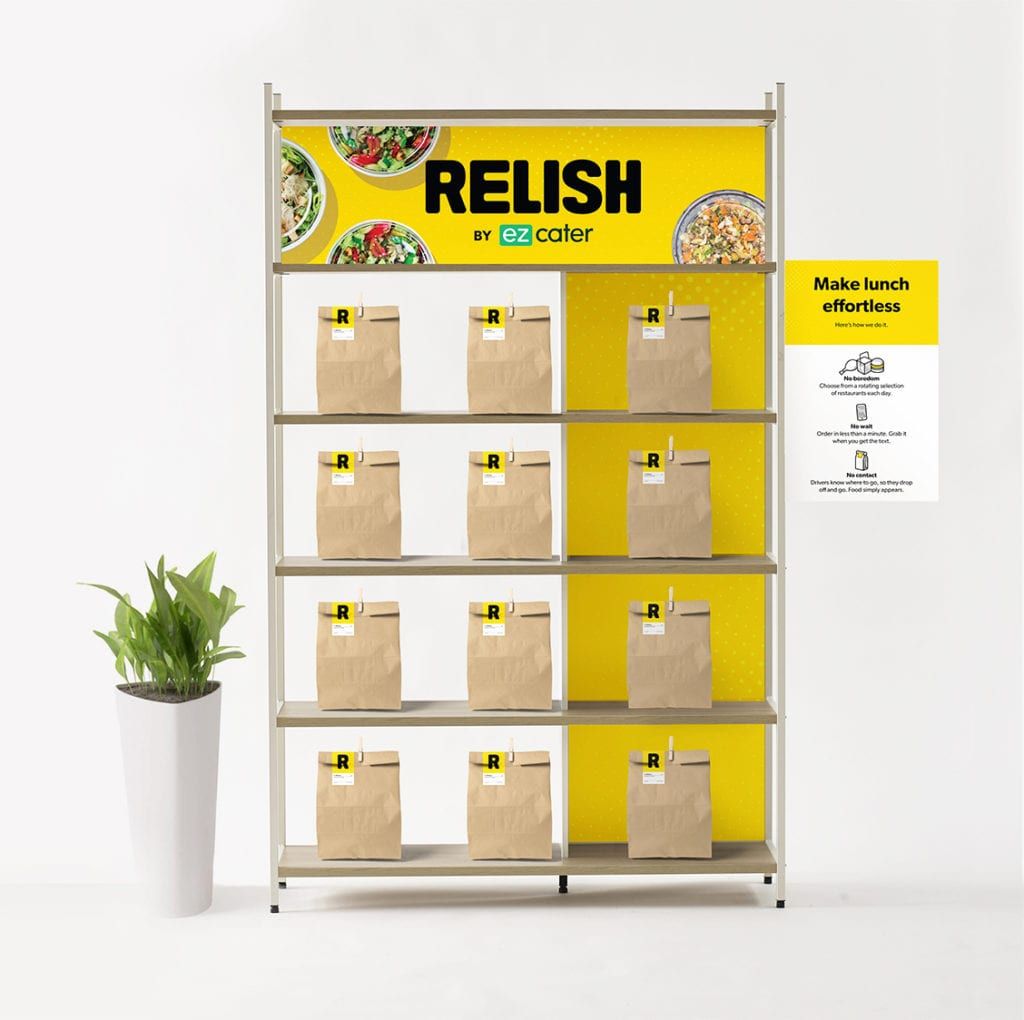 Available nationally, Relish is easy to implement and gives employees convenient access to a variety of great meals. Companies get a reliable way to keep employees safe and easily manage budgets and administrative tasks. Relish is effortlessly scalable – it automatically adapts to shifts in headcount from day to day so companies pay for only what they need and don't waste food.
The workplace is evolving. Don't let lunch fall behind.
While there are many parts of pandemic life that we'll all be happy to leave behind, there are some things that are worth keeping. Providing meals to employees when they're at the office helps them feel safe and appreciated, and it gives them time to collaborate in person and do their most innovative work together. The post-COVID-19 return to our offices has created a lot of new details to consider. With technology solutions like Relish, you can effortlessly adapt to the new hybrid environment while keeping your employees happy and engaged.
Learn more about how to get started with Relish.