​The Best Creative Pizza Combos to Shake Up Your Catering Routine
At ezCater, we have strong opinions about everything from the best condiments to "Is a hot dog a sandwich?" So it's not surprising that in October—National Pizza Month—we debate the best pizza toppings. It was hard to reach a consensus about the best pizza combos, so our data team stepped in to settle the matter. After crunching some numbers based on our sales reports and knowledge of the catering industry, our team found that cheese pizza is, unsurprisingly, the most popular. By our estimate, Americans ate 27 million cheese pizzas at work this past year (and ordered a total of 33,800 tons of pizza!).
But is cheese pizza really the best? We didn't think it was right for cheese pizza to get all the attention. So we pulled up a list of exciting pizza combos that are more than just cheese. Try these delicious combinations the next time you need catering for work.
The chicken club combo delivers the fresh flavors of shredded iceberg lettuce and sweet tomatoes strewn on a crisp pizza studded with bacon and chicken. (Supreme Pizza, in Massachusetts, makes an excellent chicken club pizza.)
Tear into this taco pizza combo and you'll get a salty boost from the blistered cheddar and crumbles of seasoned ground beef. The airy nest of shredded iceberg lettuce, juicy tomatoes, and slashes of cooling sour cream add contrasting textures and temperatures to the rich bite.
Kind of like a shepherd's pie, this pizza combo features meaty bacon, fresh scallion, and a thin layer of fluffy mashed potato, which easily dissolves on your tongue. Resist the temptation to pick off all the pieces of bacon.
If you've ever had the spicy, sultry flavors of tikka masala, we probably don't need to convince you that it's great slathered on pizza. To make this Indian-inspired pie, a crisp, chewy crust is drenched in silky-smooth tikka masala sauce and topped with slices of tender yogurt-marinated chicken. (Curry Pizza House, in California, makes a great version.)
Celebrate National Pizza Month with hot, cheesy pizza. Place your pizza order now.
We squirt spicy Sriracha on so many things—hot dogs, burgers, fries, and morning eggs—that it's kind of nice that someone would think to create a Sriracha pizza combo for us. The hot sauce gives a chili-pepper kick to roasted chicken and melty mozzarella. (Oath Pizza, in Massachusetts, calls its version the "Spicy Mother Clucker Pizza.")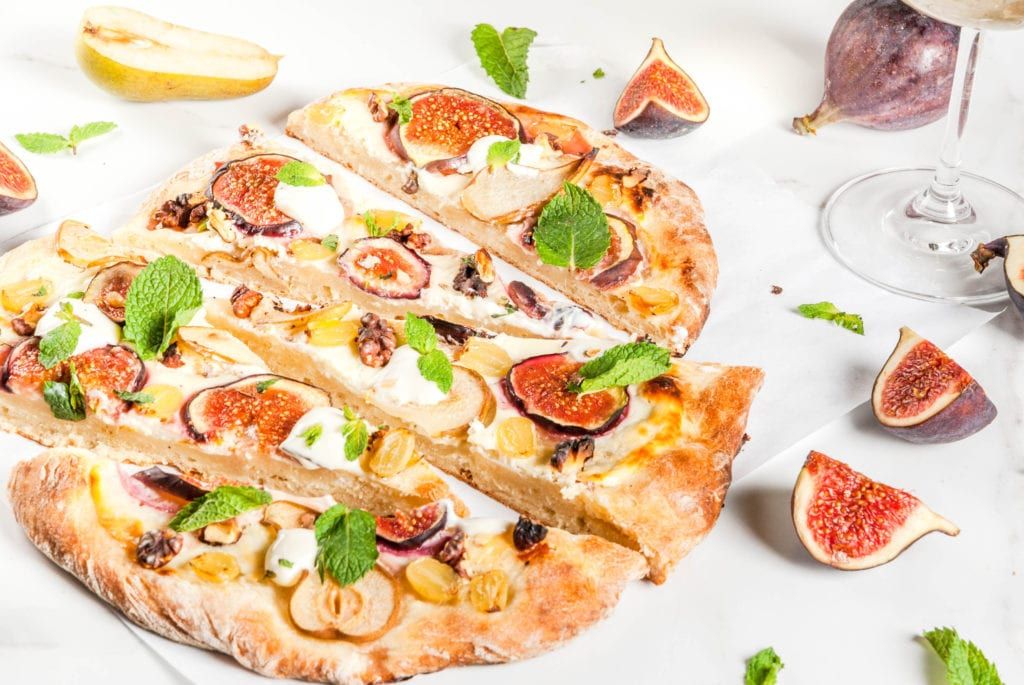 This is one of the best pizza combos for a perfect savory and sweet bite. The ripe figs and tangy balsamic jam wake up the flavor of the rich prosciutto. The fruity components are also a wonderful counterpoint to funky Gorgonzola cheese. (Boston's Figs by Todd English Catering makes this pizza combo with a cracker-thin rosemary crust.)
This bubbling mozzarella-laced pizza combo is intensely savory from the sautéed onions and seared chicken strips. The blazing pizza oven roasts the ribbons of bell peppers to their natural sweetness.
If your office is hooked on Hawaiian pizza, this creative combo may be the best choice for your group. The heat from the little jalapeño wheels gets cooled off by the bright and sweet pineapple salsa. (Check out Union Park Pizza's "Sweet and Spicy Bacon Pizza" to taste this pizza combo, or find a caterer near you.)
Korean barbecue pizza usually features crisp, smoky meats—think well-marbled short rib, pork belly, or chicken—and a combo of fresh and crunchy toppings like pickled daikon, funky kimchi, and sharp, peppery scallion.
If your team has been working hard on projects, treat yourselves to pizza during National Pizza Month and bring some joy into the office.
Want to feed your office hot, cheesy pizza?
Want to browse more articles like this one?