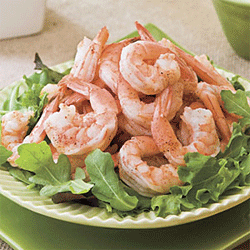 May 10, 2012 — Today is National Shrimp Day! Did you know that the average American consumes nearly four and a half pounds of shrimp per year? That's a lot of shrimp! In fact, shrimp is America's most popular seafood.
There are more than 2,000 different species of shrimp worldwide, and they can be found in both fresh and saltwater. They are so abundant that they are often referred to as "the fruit of the sea." Boiling is probably the most common method of preparing shrimp, but it can also be steamed, grilled, sauteed, baked, and deep-fried. Boiled shrimp is particularly delicious when served alongside a tasty cocktail sauce.
So for your next event, treat your guests to some tasty shrimp cocktail courtesy of your local caterer in honor of National Shrimp Day!