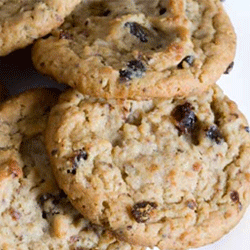 April 30, 2012 — Today is National Oatmeal Cookie Day! Oatmeal has been around since the earliest days of man - ever since we started eating grains and cooking them. But it didn't begin to make a name for itself in the cookie department until the late 1800s when the first oatmeal cookie recipe appeared in The Boston Cooking School Cookbook.
Since that time, oatmeal cookies have become a favorite the world over. They have a very wholesome quality about them and are often considered to be a healthier alternative to many other cookie varieties since oatmeal is a great source of fiber. And you can enhance an oatmeal cookie with any number of additions - the most popular being raisins, chocolate, and nuts.
So next time you're considering a dessert to go with your catering order, ask your local caterer if he offers oatmeal cookies!