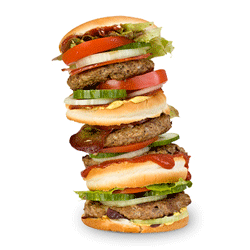 May is National Hamburger Month! Why is it known as a "hamburger" when there is no ham in it? The answer is quite simple: because the first hamburgers originated from Hamburg, Germany. German immigrants brought the recipe for their favorite meal with them when they immigrated to the United States in the 19th century, with it later becoming one of America's favorite foods.
The most common meat used to craft hamburgers is beef, but several other varieties have gained in popularity over the years — including turkey, salmon, and veggie. Cheese, lettuce, mushrooms, onions, and pickles are popular garnishes to add to a hamburger. And serving a hamburger in a bun was an American creation, with the first American-style hamburger served in 1895 at Louis' Lunch in New Haven, Connecticut.
In honor of National Hamburger Month, ask your local caterer to deliver some tasty burgers for your next lunch meeting!