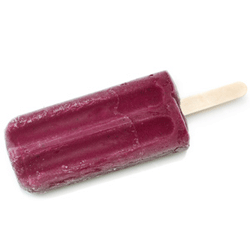 May 27, 2012 — Today is National Grape Popsicle Day! This summer treat was actually created by accident back in 1905 when 11-year-old Frank Epperson left a mixture of powdered soda, water, and a stirring stick on his front porch. The cold temperatures that night froze the mixture, leaving Epperson with a frozen pop he called the "Epsicle." It was a hit with his friends and later with his own children, who would constantly ask for "Pop's 'sicle." And the popsicle was born!
Today, more than 2 billion popsicles are sold each year. That's a lot of popsicles! They come in a variety of flavors, with the most popular being cherry, orange, and grape. A resort in Mexico even offers a $1000 popsicle, made with high-end tequila and 24K gold flakes.
So go ahead and turn your tongue purple with some grape popsicles from your local caterer in honor of National Grape Popsicle Day!