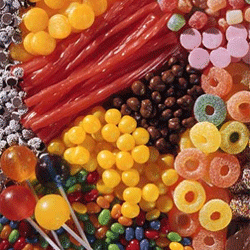 June is National Candy Month! Candy has been around for centuries. Did you know that the first candy was made with honey? Sugar was very difficult to come by, so the ancient Chinese, Egyptians, Greeks, and Romans coated flowers and fruits in honey to make candy. 
These days the average American consumes about 25 pounds of candy per year. That's a lot of candy! The top selling candy in the United States, as well as worldwide, is M&M's. Although chocolate is the most popular candy in the world, there are many other varieties of candy including gum, licorice, sour candies, hard candies, taffies, gumdrops, marshmallows, and more. The Japanese even have a popular candy known as Ika, made of chocolate covered dried squid.
Treat your office to some delicious candy courtesy of your local caterer in honor of National Candy Month!