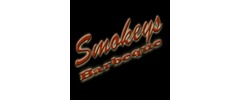 Earn up to 5% in ezRewards Points with every order, and convert them to Amazon.com Gift Cards.
Order Delivery or Take Out from 1 Location
About Smokey's Bbq
On ezCater.com since 06/03/2015

    We'll get your next event cookin'! Our BBQ sandwiches and plates brings the taste of Texas right to your table. Make sure you try our customer's favorite ribs!