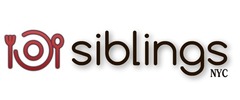 Earn up to 5% in ezRewards Points with every order, and convert them to Amazon.com Gift Cards.
Order Delivery or Take Out from 1 Location
About Siblings Nyc
On ezCater.com since 09/20/2016

    Make it perfectly delicious with Siblings NYC catering. Your guests will love our-made-to-order signature dishes, like our rotisserie Chicken marinated in 17 kinds of herb and spices for several days, served with our sensational home made sauces. We also offer plenty of healthy menu options, so you can customize your guests's delight.