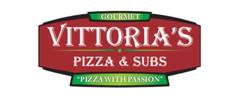 About Vittoria's Pizza 24/7 & Catering

    Named for our mother, Mama Vittoria, whose love for food and the kitchen inspired our enthusiasm for cooking. Our dough is made by hand, not with appliances, and our subs and pastas are assembled with care. Come to us for pizza made with passion. It's not about how we toss it or how we cook it, it's about love and passion.

SAME DAY: Order online for up to 25 people with same day delivery and a minimum of two-hour notice required.
NEXT DAY: Order online for 26 to 75 people for next day delivery.
TWO DAY OR MORE: Order online for over 75 people for delivery with two days' notice .