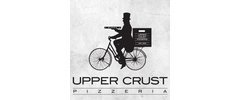 Yes, we're open!
Individual packaging available on marked items.
Contactless delivery available at checkout.
Order Delivery or Take Out from 7 Locations
About Upper Crust Pizzeria

    We're famous for our location-based signature pizzas, inspired by the cities we serve. Additionally, we offer various Italian classics to make your corporate gathering into something truly upper-crust!