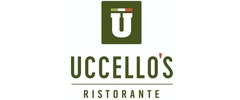 Yes, we're open!
Individual packaging available on marked items.
Contactless delivery available at checkout.
Order Delivery or Take Out from 5 Locations
About Uccello's Ristorante

    Since 1978, our philosophy has been to always give the customer more than they would normally expect. Because of this, we are always striving to be better and never compromise quality. In turn, you know that it doesn't matter whether you're ordering our six-cheese lasagna, our stuffed chicken scallopini, or our homemade tiramisu; you're getting the best!