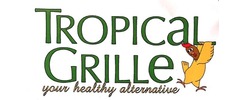 Yes, we're open!
Individual packaging available on marked items.
Contactless delivery available at checkout.
Order Delivery or Take Out from 7 Locations
About Tropical Grille

    The concept is simple; take some of our favorite childhood recipes from our Cuban heritage and prepare them using fresh & local ingredients. The end result is fast, healthy, and affordable food that will be sure to please everyone at your table. Order from us for your next meeting or event and your taste buds won't be sorry.