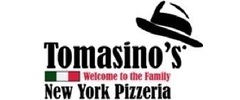 Yes, we're open!
Individual packaging available on marked items.
Contactless delivery available at checkout.
About Tomasino's New York Pizzeria

    Quality, taste, value, and authenticity—that's what we're all about. We make our pizza dough & sauces from scratch every day and bake our pies in a special gas-fired brick oven to get that perfectly-crisped crust that authentic New York-style pizza is known for. In addition to a huge selection of gourmet pizzas, we also offer classic Italian entrees, pastas, and subs. And don't forget a little something sweet - our cannoli & tiramisu are the real deal!