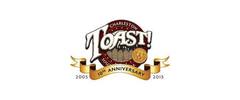 Yes, we're open!
Individual packaging available on marked items.
Contactless delivery available at checkout.
Order Delivery or Take Out from 3 Locations
About Toast!

    We were hailed as a must-eat by the NY Times. Our food is fresh, southern, and home-made goodness. Our boxed lunches are easy to order for any palate, so you don't have to fret! No matter what meal you decide on, we are happy to greet you with our famous low country charm.