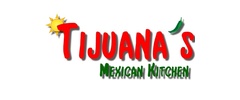 Yes, we're open!
Individual packaging available on marked items.
Contactless delivery available at checkout.
Order Delivery or Take Out from 2 Locations
About Tijuana's Mexican Kitchen

    We're a family-owned business with over 20 years of experience in the restaurant industry - the proof can be found in our food, from our house-made tortillas to our variety of award-winning salsas. Our per person catering packages make it easy to order for your group, and everyone will love building their own burritos, nachos, or fajitas!