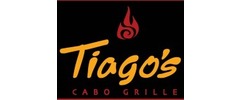 Yes, we're open!
Individual packaging available on marked items.
Contactless delivery available at checkout.
Order Delivery or Take Out from 2 Locations
About Tiago's Cabo Grille

    We have the best Mexican food in San Antonio; we've even been awarded best guacamole AND best chips & salsa in the area! We use locally sourced ingredients whenever possible, including tender and flavorful certified Akaushi Beef. Don't skip dessert - our famous Mexican Chocolate Cake is sure to satisfy everyone's sweet tooth at your next meeting, event, or fiesta.