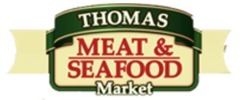 Yes, we're open!
Individual packaging available on marked items.
Contactless delivery available at checkout.
Order Delivery or Take Out from 2 Locations
About Thomas Meat and Seafood

    We are thrilled to carry on the tradition of providing the best cuts of meat and freshest seafood around. We have one objective: make our customers happy. That's why we offer premium ingredients, hormone & antibiotic-free meats, and a variety of delicious catering package options to fit your tastes!