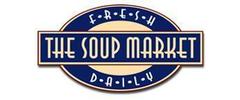 Yes, we're open!
Individual packaging available on marked items.
Contactless delivery available at checkout.
Order Delivery or Take Out from 5 Locations
About The Soup Market

    Founded in 2004, we've been serving our community the best soup they've ever had for over 10 years. Over the past decade, much has changed, but the one that that hasn't is our unwavering commitment to being the best we can be at what we do. This means taking the time to simmer our stocks, homemade of course, and making sure they're made with patience and care. Try pairing any of our famous soups with a sandwich or salad and you'll be on your way to warming up your next meeting!