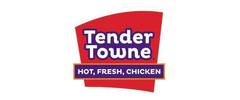 Yes, we're open!
Individual packaging available on marked items.
Contactless delivery available at checkout.
Order Delivery or Take Out from 2 Locations
About Tender Towne

    We are passionate about providing the best tasting, highest quality chicken tenders in the world! Our tenders are prepared with care, marinated for at least 24 hours, then hand-breaded in a secret blend of spices and cooked fresh to order.  For those who dream, believe in our product: hot, fresh chicken.