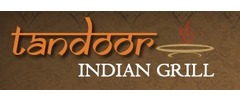 Yes, we're open!
Individual packaging available on marked items.
Contactless delivery available at checkout.
Order Delivery or Take Out from 3 Locations
About Tandoor Indian Grill

    We offer a blend of Northern and Southern Indian cuisines with a modern flair. Customers praise our extra-garlicky naan, tender bone-in tandoori chicken, and an aloo gobi that's just spicy enough. If you're craving something rich and flavorful, come to us to feed your next meeting.