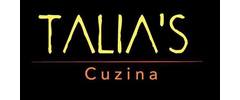 Yes, we're open!
Individual packaging available on marked items.
Contactless delivery available at checkout.
Order Delivery or Take Out from 1 Location
About Talia's Cuzina

    Inspired by his mother's passion for Mediterranean cooking, it wasn't long before founder Chris was climbing the ladder of the restaurant industry. Our Mediterranean/Italian menu takes its cue from his mother's recipe. We promise that whether you order our chicken Marsala or stuffed grape leaves, your guests will clean their plates.