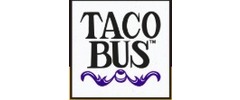 Yes, we're open!
Individual packaging available on marked items.
Contactless delivery available at checkout.
Order Delivery or Take Out from 7 Locations
About Taco Bus

    Taco Bus proudly delivers a healthy, fresh, authentic Mexican taste experience to our Florida fans. Just one bite of a burrito, tostada, or quesadilla, and your taste buds will be singing traditional Mexican folk songs! Visit us today at one of our locations and remember to Keep It Chido!