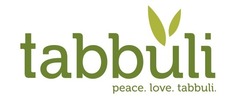 Yes, we're open!
Individual packaging available on marked items.
Contactless delivery available at checkout.
Order Delivery or Take Out from 1 Location
About Tabbuli

    We are a highly-rated restaurant that brings Mediterranean flair to the southern seaside. While there are many single entrees to be enjoyed for the diner with a refined palate, we also offer dishes that are perfect for sharing. With a health-conscious menu we continue to be a favorite any type of gathering.