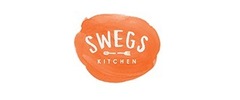 Yes, we're open!
Individual packaging available on marked items.
Contactless delivery available at checkout.
About SWEGS Kitchen

    Small wins equal great success. That's how we got our name. And that philosophy is at the heart of each meal we prepare. We approach classic comfort foods with a fresh perspective, never sacrificing flavor and alway using real, wholesome ingredients. With healthy "wins" in everything we serve, we make it easy to eat healthy on the go.