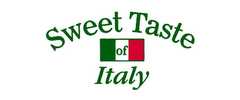 Yes, we're open!
Individual packaging available on marked items.
Contactless delivery available at checkout.
Order Delivery or Take Out from 1 Location
About Sweet Taste Of Italy

    We want you to be impressed with our food, and that is why nearly everything on our menu is made from scratch every single day. That means scratch-baked breads for our sandwiches, homemade sauces on our pasta and never-frozen meatballs. Now that's a taste of Italy!