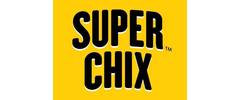 Yes, we're open!
Individual packaging available on marked items.
Contactless delivery available at checkout.
Order Delivery or Take Out from 7 Locations
About Super Chix

    We are super into chicken. We think it's just about the most perfect food in the world. We keep it simple-- we're home to the Last True Chicken Sandwich. Pair it with our top-notch toppings, hand-cut potato chips, and our own blend of frozen custard.