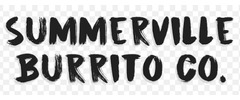 Yes, we're open!
Individual packaging available on marked items.
Contactless delivery available at checkout.
Order Delivery or Take Out from 2 Locations
About Summerville Burrito Co

    Our head chef has recognized a need for healthy, wholesome food at an everyday price, so that's what you'll find here. We refuse to compromise on quality in our restaurant. By braising and roasting meats in-house and sourcing our fresh fruits and vegetables, our entrees bring out flavors that come to life.