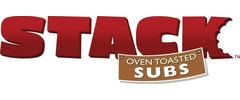 Yes, we're open!
Individual packaging available on marked items.
Contactless delivery available at checkout.
Order Delivery or Take Out from 2 Locations
About STACK Subs

    We started STACK because we wanted to build a place that gave people a great meal at a reasonable price. We've been a staple of the Lakewood, CO community for four years and always support local events in hopes of making each day a little better for everyone.