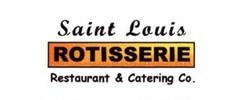 Yes, we're open!
Individual packaging available on marked items.
Contactless delivery available at checkout.
Order Delivery or Take Out from 1 Location
About St Louis Rotisserie & Catering

    For over 20 years, we've gotten up at 4 a.m. to build a wood fire in our rotisserie oven. We're turning chicken and other meats on that spit all day to cook out the fat and seal in the juices. Our time-honored, no-shortcut methods have been the key to our success. We're proud to be the official caterer of the St. Louis Rams!