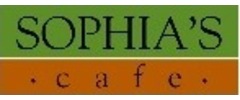 Yes, we're open!
Individual packaging available on marked items.
Contactless delivery available at checkout.
Order Delivery or Take Out from 7 Locations
About Sophia's Cafe

    We've specialized in corporate catering for over 15 years, which is why our menu is filled with plenty of dishes suitable for any occasion. Whether you're looking for breakfast, lunch, or dinner, we've got you covered. No matter what you order, we guarantee you'll get a delicious meal without the fuss.