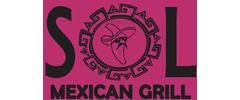 Yes, we're open!
Individual packaging available on marked items.
Contactless delivery available at checkout.
Order Delivery or Take Out from 2 Locations
About Sol Mexican Grill

    We are a family owned and run business that began as the dream of 3 brothers at beginning of 2011. The idea emerged from the love and passion of street food. Their goal was to bring fresh authentic Mexican food to the streets of DC!