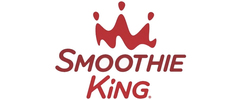 Order Delivery or Take Out in 4 Cities
About Smoothie King

    Nurturing Passion. Nourishing Purpose.
We believe each day is filled with promise and possibility. And our purpose is to help you get the  
most out of it. That's why each of our ingredients is chosen carefully, and every one of our  
blends is crafted masterfully. So you can be your best self, live your best life, and rule the day.

Our Mission: 
Inspire people to live a healthy and active lifestyle. 
Our Vision: 
Be an integral part of everyone's health and fitness journey. 
• Food Allergies? Please note that our facility uses milk, peanuts, tree nuts, soy and eggs. Cross-contamination  may occur.
• Pregnant or Nursing? Please consult your healthcare professional if you have any concerns.