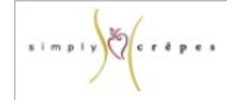 Yes, we're open!
Individual packaging available on marked items.
Contactless delivery available at checkout.
Order Delivery or Take Out from 3 Locations
About Simply Crepes

    Whether for breakfast, lunch, dinner or dessert, our crêpes are a delicious meal for any time of day. We pride ourselves on our devotion to creating handcrafted delicacies using local ingredients to support local businesses. Our crepes are always made from scratch and always tasty!