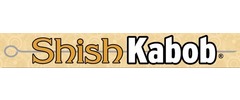 Yes, we're open!
Individual packaging available on marked items.
Contactless delivery available at checkout.
Order Delivery or Take Out from 3 Locations
About Shish Kabob

    Sail away to the Mediterranean without ever leaving Raleigh! For 15 years serving exceptional Mediterranean specialties (as delicious as they are nutritious) has been our pride and joy. Everything from the wildly popular gyro and vegetarian dishes to our colorful salads and grilled-to-perfection kabobs are bursting with flavor and are sure to leave you feeling great.