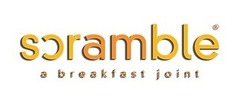 Yes, we're open!
Individual packaging available on marked items.
Contactless delivery available at checkout.
Order Delivery or Take Out from 4 Locations
About Scramble

    We're an exciting new take on breakfast. How we do it is no secret: we pride ourselves on using ingredients from local farmers and vendors as much as possible. You can taste the difference in every bite.