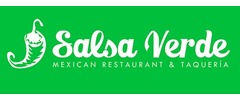 Yes, we're open!
Individual packaging available on marked items.
Contactless delivery available at checkout.
Order Delivery or Take Out from 5 Locations
About Salsa Verde

    Redefining the concept of modern, fast-casual food by proudly serving delicious dishes prepared from authentic Mexican recipes. We are a family owned business with the idea of connecting people through enjoyable food. Our loyal customers have quickly turned what began as a mom-and-pop shop into a bigger-scale business.