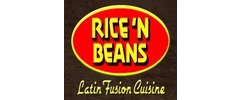 Yes, we're open!
Individual packaging available on marked items.
Contactless delivery available at checkout.
Order Delivery or Take Out from 3 Locations
About Rice 'N Beans To Go

    Pennsylvania might not be the first place you think of when you're looking for great Latin fusion cuisine, but it just takes one bite of our empanadas, quesadillas, and tacos to change your mind. Dig in to our savory turnovers stuffed with sumptuous fillings for a Latin American meal unlike any other!