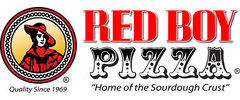 Yes, we're open!
Individual packaging available on marked items.
Contactless delivery available at checkout.
Order Delivery or Take Out from 3 Locations
About Red Boy Pizza

    We're the home of the sourdough pizza crust! Sourdough is a special kind of bread that requires a lot of special care and attention, and we apply the sourdough philosophy throughout our pizza creation process. Try one of our tasty pies today!