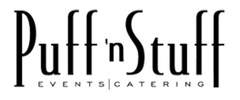 Yes, we're open!
Individual packaging available on marked items.
Contactless delivery available at checkout.
Order Delivery or Take Out from 2 Locations
About Puff 'n Stuff Catering

    We offer a variety of gourmet specialties, including house-made pastries with unique spreads, globally influenced sandwiches, and fresh, colorful salads. Our upscale presentation is a priority for our chefs, so we take great care to prepare artfully arranged food that will inspire. It's our goal to bring creative food to the forefront of each and every event.