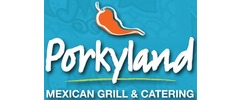 Yes, we're open!
Individual packaging available on marked items.
Contactless delivery available at checkout.
Order Delivery or Take Out from 2 Locations
About Porkyland Mexican Grill & Catering

    We are one of the most popular Mexican restaurants in San Diego, thanks to our house-made tortillas and award-winning carnitas. With over three decades of experience, we have perfected the art of catering Mexican favorites.