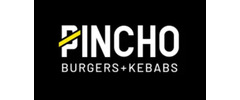 Order Delivery or Take Out from 8 Locations
About PINCHO BURGERS + KEBABS

    
Our brand values are the foundation of everything we do, from the back office to front of the house. They inspire who we are and what we do each and every day.

Flavor:
Bringing the flavor with great tasting food—and a side of attitude. We keep it fresh, with our unique energy and vibrance in everything do.
Culture:
Building a culture by investing in our team members and the community that surrounds us.
Passion:
Doing it with passion and we don't only mean that with our food; we curate great experiences. We love what we do and we do with a genuine smile.