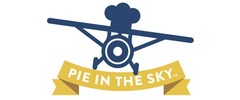 Yes, we're open!
Individual packaging available on marked items.
Contactless delivery available at checkout.
Order Delivery or Take Out from 2 Locations
About Pie in the Sky Bakery

    We're proud to offer our gluten-free and all-natural cheesecakes to those of us with a sweet tooth all around the country! While our baking is done in Longmont, CO, our homemade desserts are frozen, packaged, and ready to be shipped and enjoyed anywhere in the country. We send our pies in the sky to you with the confidence of knowing that our flavors and our delivery methods will go above and beyond your expectations.