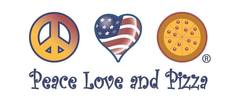 Order Delivery or Take Out from 6 Locations
About Peace Love and Pizza

    Rockin' Pizza & Groovy Eats! We're here to rescue taste-deprived peeps in search of the perfect pie. A mouthwatering fusion of Northeast- and California-inspired flavors, PLP welcomes customers with open arms that say, "Relax and welcome home." There's no need to ever settle for less again.

The food we prepare is set apart by LOVE. By listening to customer and employee feedback, we've launched a special kind of brand, one that cares about more than the bottom dollar. Let's put it this way, if we won't serve it to our mothers, we won't serve it to you. 

Our Mission
"Build better, richer and happier lives - every pizza, every experience for every awesome customer demanding the best"