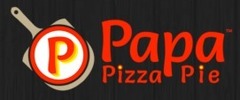 Yes, we're open!
Individual packaging available on marked items.
Contactless delivery available at checkout.
Order Delivery or Take Out from 2 Locations
About Papa Pizza Pie

    We're a local favorite when it comes to pizza, pasta, subs, and wings. Our classic Italian and American-inspired menu offers a variety of dishes, including our signature papa's all meat pizza and creamy shrimp fettuccine. Bring your appetite, and we'll take care of the rest!